PROZIS ZERO PROTEIN CHIPS
Fit more protein and less fats into your day.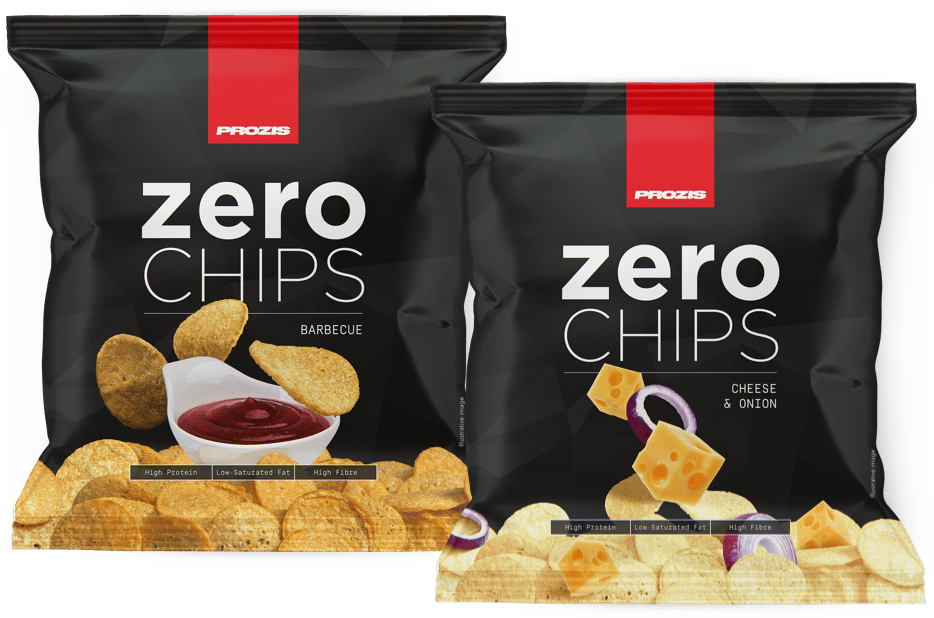 45% protein

0 g Sugars

0 g Saturated Fat
Per packet - cheese & onion flavour
Do you occasionally feel that insatiable appetite for a delicious snack? Do you feel the urge for some crunch and flavour that's full of character? No need for all that weight on your conscience, there's a fit solution within reach!
Prozis Zero Protein Chips are the perfect choice that allows you to enjoy an authentic spicy snack, but with the certainty that you are making a much healthier choice, if combined with a balanced daily diet.
YOU CHOOOOSE TO STAY FIT!
Prozis Zero range seeks to provide sugar-conscious alternatives to everyday products. From sauces to chocolate treats, there are several options that can make the difference, all of which delicious and in line with your goals. Zero worries, complete pleasure.
GO WISE
Supplement Facts
Quantity: 25 g
Serving Size: 1 Packet
Servings Per Container: 1
Flavor: Barbecue
Content

By Serving

Energy

Fat

3.25 g

Saturates

0.30 g

Carbohydrate

4.43 g
Sugars

1.35 g

Fibre

4.33

g
Protein
11.20 g
Salt
0.68 g
Other Ingredients
Chips (SOYA Protein Concentrate, Tapioca and Potato Starch,
Fiber
(Soya), Potato Flakes, Salt, SOYA lecithin), Sunflower Oil, Flavoured Preparation (Flavouring (GLUTEN), Smoke Flavor, Colour (Paprika Extract, Capsanthin),
Milk protein
, Salt.
Recommended Use
Ready-to-eat.
Warnings
Contains: gluten, soya and milk. May contain traces of celery, egg, mustard and sulphites. This product should not replace a varied and balanced diet and a healthy lifestyle. Do not use as a sole source of nutrition. Store tightly sealed in the original packaging in a cool, dry place, avoiding direct sunlight.