FERMACEUTICAL™ GRADE
The pharmacokinetic process of L-Citrulline is that it is not subject to any elimination by the liver prior to entering the bloodstream. Conversely, L-Arginine is subject to extensive elimination by the gut wall and liver. (26)
The majority of L-Citrulline is converted to L-Arginine in the kidney. (3)
Once in circulation, L-Arginine is readily converted into L-Citrulline and nitric oxide, which in turn serves as an L-Arginine precursor (see figure below). (10)
CONVERSION FROM
ARG (L-ARGININE) TO CIT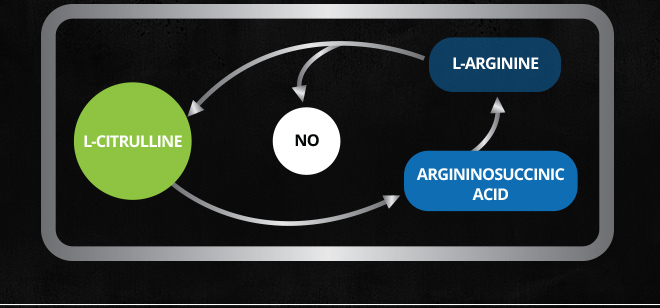 ABSORPTION OF L-ARGININE AND L-CITRULLINE
Inside intestinal tract
Consumed in the urea cycle and in biosynthesis of other substances in liver
Reaches kidney through liver, biosynthesis of ARG in Kidney (75%)
ARG supplied to the whole body
*CIT ingestion enables effective supply of ARG to the whole body
CITRULLINE MALATE IS MIXED 1:1 (MALIC ACID + L-CITRULLINE. BASICALLY, THE L-CITRULLINE IS CUT IN HALF!
MOST BRANDS USE CITRULLINE MALATE 1:1 RATIO DUE TO COST (CHEAP) – 50% LESS PER KG THAN PURE L-CITRULLINE.
KAGED MUSCLE L-CITRULLINE
FERMENTATION DERIVED VS SYNTHETIC
DARE TO COMPARE
OUR BCAAS TO THE COMPETITION
Supplement Facts

Content: 220 g
Serving size: 1 Scoop (1 g)
Servings per Pack: 100
| Content | By Serving |
| --- | --- |
| L-Citrulline (fermented) | 2 g |
Other Ingredients
None.
Recommended Use

As a dietary supplement, mix 1 scoop in your favorite beverage or protein shake twice daily.


Warnings
Consult your physician prior to using this product if you are pregnant, nursing, under 18 years of age, taking medication or have a medical condition. Immediately discontinue use and contact your physician if any adverse reactions occur. Keep out of reach of children. Store in a cool dry place away from excessive heat. Contents may settle during shipping. Sold by weight, not volume.