POTENTIAL BECOMES PERFORMANCE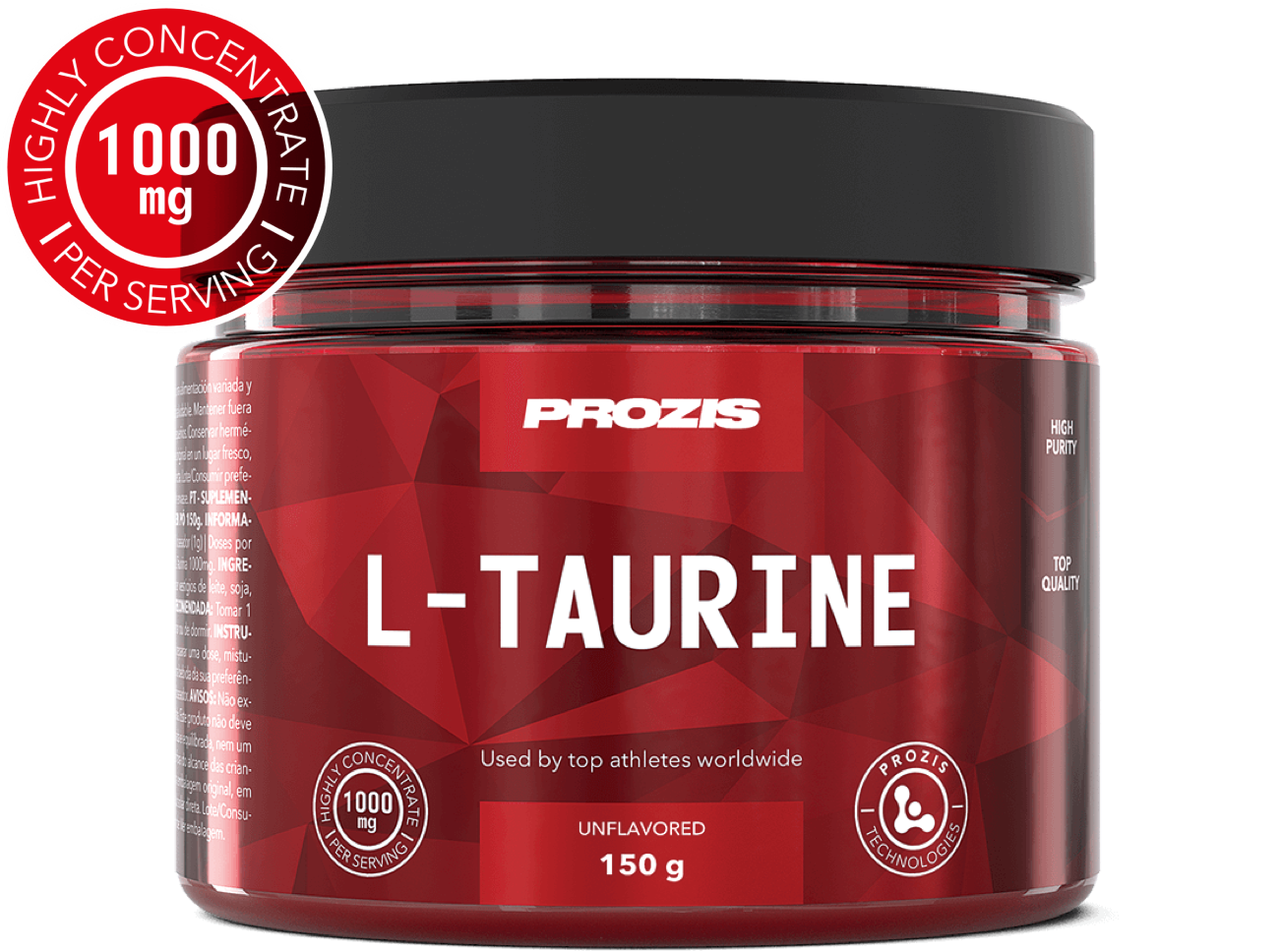 L-Taurine to begin
Does the word Taurine ring a bell? Well, there's a reason for that. When energy drinks became popular, this free amino acid became known, and rapidly gained the attention of athletes and active people.
The brain and liver are responsible for L-Taurine synthesis, though it is commonly found in the muscles and the heart as well.
L-Taurine for the win
Investigation to unveil the full array of effects of this amino acid, and the role it plays in the body's many functions, is still ongoing. Nevertheless, people who constantly put their physical potential to the test turn to supplements like L-Taurine as a way to complement their balanced diet.
Take advantage of the properties of this amino acid. Aren't you even the tiniest bit curious about what it can do for you? See the results for yourself.
For What?
Since it is present in several everyday foods in greatly varying concentrations, it can be difficult to keep track of the precise amount consumed. That is why Prozis developed a high purity L-Taurine formula in powder form. Now it is possible to control your daily intake with Prozis L-Taurine.
For Whom?
Prozis L-Taurine is suitable for those who wish to experience the effects of taurine, whether they are athletes, bodybuilders or active people. It is especially recommended for people who know that improvement takes effort.
Recommended daily intake
Take 30 minutes before working out or before bed.
Prozis L-Taurine highlights
1000 mg of

L-Taurine

per serving
Available in easy-to-mix powder form
Ideal for high-intensity training athletes
Certified by independent labs
What is Taurine
Taurine is a naturally occurring amino acid and is found in high concentrations in the white blood cells, skeletal muscles, central nervous system as well as the heart muscles.
Taurine is a naturally occurring amino acid that can be found in large amounts in the muscles, heart and brain. It is involved in several metabolic processes in the body, including inflammatory reactions and glucose metabolism.
Step-up your pre-workout nutrition
Taurine became extremely popular when it started to be featured in some of the most popular energy drinks and quickly gained reputation as an effective energy booster, widely used by those involved in intense and strenuous physical activities.
Taurine Benefits
Taurine is a soluble powder and can be easily mixed with your supplements or mixed with just water.
Who is Taurine Suitable for?
Taurine is ideal for anyone looking to increase their dietary intake of Taurine. For best results consume 1 (1-3g) serving of Taurine 30 minutes before your workout or prior to bed.
Key Benefits
Convenient way to increase Taurine intake
Supplement Facts
Quantity: 150 g
Serving Size: 1 Scoop (1.0 g)
Servings Per Container: 150
| Content | By Serving |
| --- | --- |
| L-Taurine | 1000 mg |
Other Ingredients
L-Taurine
Recommended Use
Take 1 serving 30 minutes before working out or going to sleep. To prepare 1 serving, mix 1 scoop with water or any beverage you prefer. Scoop inside container.
Warnings
Do not exceed the recommended daily dosage. This product should not replace a varied and balanced diet and a healthy lifestyle. Keep out of reach of children. Store tightly sealed in the original packaging in a cool, dry place, avoiding direct sunlight.