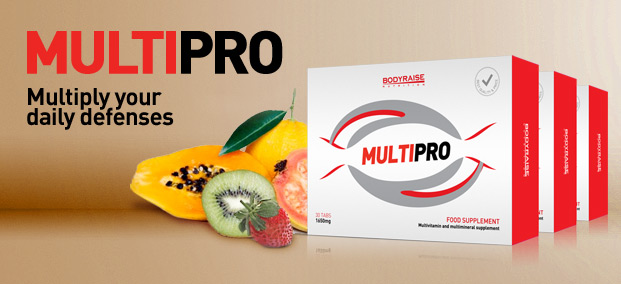 MultiPro by BodyRaise is a Multivitamin Complex rich in vitamins and mineral salts made for people who are subject to psychological stress and an active life. Made to regulate and protect normal body function.
Why take MultiPro?
Vitamins and minerals have an antioxidant action which protects the cells from damage caused by free radicals. It fights against degenerative processes such as cell aging. With MultiPro your appearance will also improve, it strengthens nails, teeth and gum, as well as improving skin elasticity and texture. MultiPro aids hair growth, coloring and shine. Vitamins and minerals are associated to enzyme and co-enzyme functions which are essential to energy production.
By taking this Multivitamin complex you will be providing your body with all thevitamins and minerals it needs for your well-being. When you demand too much from your body (Physical exercise, work,etc), this Multivitamin supplies the extra energy you need.
MultiPro Main benefits
Reduces the impact of stress
Protects your immune system
Supplement Facts
Quantity: 30 Tablet(s)
Serving Size: 1 Tablet(s)
Servings Per Container: 30
| Content | By Serving |
| --- | --- |
| Magnesium | 83 mg |
| Zinc | 5 mg |
| Manganese | 0.67 mg |
| Copper | 1 mg |
| Iodine | 50 mcg |
| Selenium | 33 mcg |
| Chromium | 35 mcg |
| Molybdenum | 25 mcg |
| Vitamin A | 500 mcg |
| Vitamin E | 10 mg |
| Vitamin C | 33 mg |
| Thiamin | 0.50 mg |
| Riboflavin | 0.60 mg |
| Niacin | 7 mg |
| Pantothenic Acid | 3 mg |
| Vitamin B6 | 1.30 mg |
| Biotin | 30 mcg |
| Folic Acid | 133 mcg |
| Vitamin B12 | 2.40 mcg |
| Vitamin D | 3.30 mcg |
| Vitamin K | 27 mcg |
Other Ingredients
Thickener (Microcrystalline Cellulose), Magnesium Oxide, Bulking Agent(s) (Maltodextrin), L-Ascorbic Acid, Potassium Chloride, Stabiliser (Polyvinylpyrrolidone), Coating (Stabiliser (Hydroxypropyl methyl cellulose), Stabiliser (Polyvinylpyrrolidone), Color (Titanium Dioxide)), Tocopheryl Acetate, Anti-caking Agent (Tricalcium Phosphate), Anti-caking Agent (Magnesium Stearate), Nicotinamide, Zinc Oxide, Retinyl Acetate, Calcium D-Pantothenate, Chromium chloride, Anti-caking Agent (Silicon Dioxide), Sodium Selenite, Sodium molybdate, Manganese Sulphate, Pyridoxine Hydrochloride, Cholecalciferol, Copper Oxide, Riboflavin, Thiamine Hydrochloride, Phylloquinone, Cyanocobalamin, Pteroylmonoglutamic Acid, Potassium Iodide, D-Biotin.
Recommended use
Recommended Daily Dose Take 1 tablet at one of the 3 main mealtimes.
Warnings
Exp 09/2019
Do not exceed the recommended daily dosage. This product is not intended to diagnose, treat, cure, or prevent any disease. This product should not replace a varied and balanced diet and a healthy lifestyle. Keep out of reach of children. Due to the lack of studies confirming the safety of use in case of pregnancy and lactation, this supplement should not be used in these situations, unless prescribed by a doctor. The product should not be used in case of hypersensitivity or allergy to any of the ingredients in the formula. Keep in the original packaging in a cool, dry place, away from direct sunlight.