More info
Inferno Black
Inferno Black is a no-nonsense pre-workout formula. It has a small number of ingredients but in very high dosages, and is therefore super effective. You get the best value for your money when you use Inferno Black to improve your training results.
Contains the 5 most essential pre-workout ingredients
L-Citrulline (4g):

most efficient precursor of nitric oxide levels.
L-Arginine AKG (1g):

one of the best bioavailable forms of L-Arginine.
Beta Alanine (3g):

we provide a high dosage of beta alanine which increases carnosine levels in skeletal muscles.
Taurine (1g):

Inferno Black contains this versatile super-amino in a sufficiently high-quality, bioavailable form.
Caffeine (300 mg):

the most effective pre workout ingredient for high-intensity exercises.
Full Transparency
Our open, non-proprietary formula, shows you exactly what you get. High quality ingredients. Dosed high, dosed right!
Supplement Facts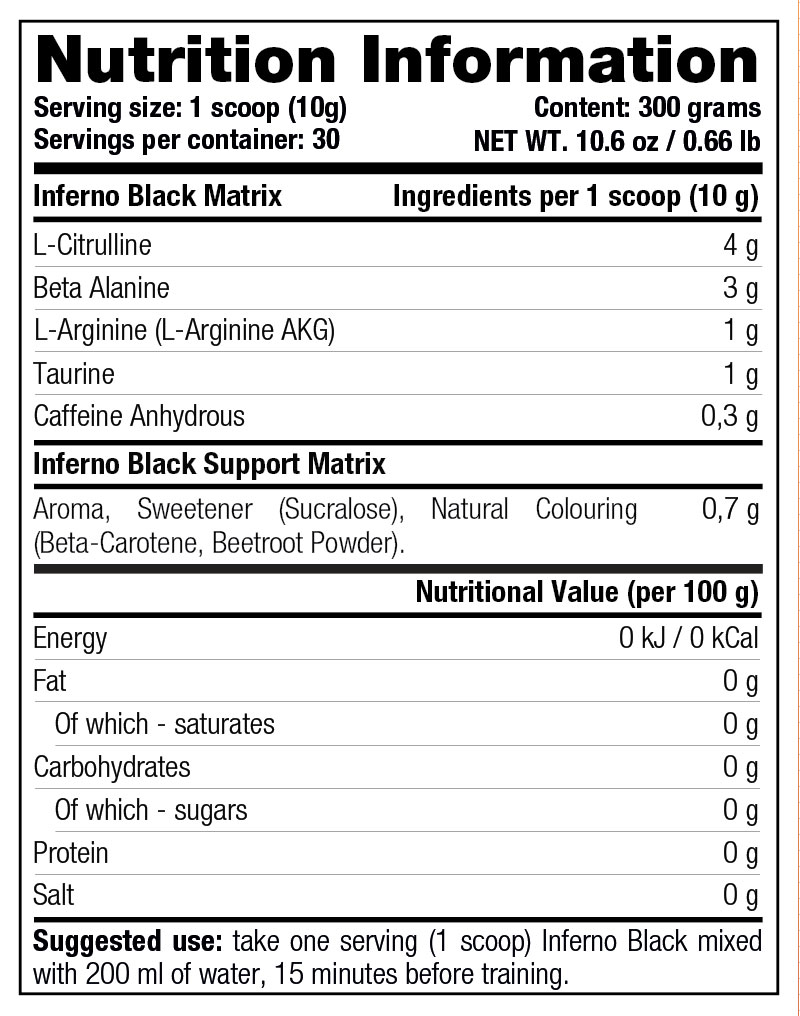 Warnings
This product is designed for consumption by healthy adults over 18 years. Not suitable for people with health problems and people using medicine, children under 18 years, pregnant and nursing women or people with caffeine or beta-alanine intolerance. Stop using and consult a doctor if you notice any side effects. Do not use with combination of coffee, alcohol or stimulants from other sources. To prevent insomnia, do not use 4 hours before sleeping. You can notice harmful short-time skin prickle. It is made in a factory that also processes milk or soy. Do not use if the lid is damaged or is missing. Store in a dry and cold place. Keep out of the reach of small children.