Stacker Complete Creatine
Complete Creatine contains the four most powerful and best-researched forms of creatine in a single product! By using Complete Creatine daily, you are guaranteed to experience more muscular power. You can train more powerfully and keep up sets for longer without experiencing acidification. In order to experience this effect of Complete Creatine, you take only 5 grams dissolved in water, once or twice a day. Complete Creatine works immediately, without a loading phase.
The highlights of Complete Creatine
Contains the four strongest forms of creatine
Guarantees more muscular strength at the gym and during sprinting
Train more rigorously: optimises muscle strength
Free of fillers
Stimulates lean muscles
Best price-quality guarantee
Not every creatine is the same. Stacker2 Europe offers you only the best creatines, which have been clinically proven to be effective. Whether you dissolve creatine in water or mix it into a protein shake, you become stronger and more explosive in your training.
The highest quality!
Complete Creatine is an improved version of creatine monohydrate. Benefit from less water retention and an accelerated absorption. When you are going for the highest quality supplement and are looking for guaranteed results, then Complete Creatine is your best choice. You won't find a better product at this price.
Supplement Facts
Quantity: 300 g
Serving Size: 1 Scoop (5 g)
Servings Per Container: 60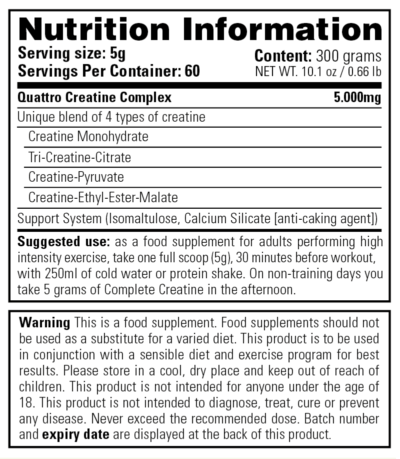 Other Ingredients
Natural And Artificial Flavors
, Citric Acid
, Malic Acid
, Maltodextrin
, Silica
, Sucralose
, Acesulfame K
, FD&C Blue No 1.
Suggested Use
Take one (1) serving (1 scoop) blended into 8oz of ice cold water, either before, during, or after workout, or as directed by a qualified healthcare practitioner. On non-training days, take one (1) serving (1 scoop) first thing in the morning, on an empty stomach, or as directed by a healthcare practitioner.
Warnings
This is a food supplement. Food supplements should not be used as a substitute for a varied diet. This product is to be used in conjunction with a sensible diet and exercise program for best results. Please store in a cool, dry place and keep out of reach of children. This product is not intended for anyone under the age of 18. This product is not intended to diagnose, treat, cure or prevent any disease. Never exceed the recommended dose.